Mothers and Daughters
Out now in Paperback, Hardback, eBook and Audio Book.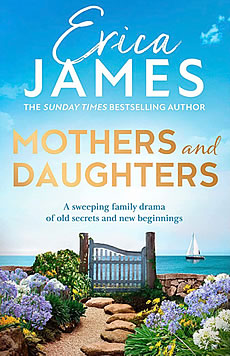 Even happy families have their secrets…  A sweeping family drama of old secrets and new beginnings from the Sunday Times bestselling author Erica James.
Since the sudden death of her husband, Naomi has steadily rebuilt the life they shared in the village of Tilsham by the sea.
Her eldest daughter, Martha, is sensible and determined – just like her father was – and very much in control of where her life is going. If she could just get pregnant with her husband, life would be perfect.
Willow, the youngest, was always more sunny and easy-going, yet drifted through life, much to her father's frustration. But now, with charming new boyfriend, Rick, she has a very good reason to settle down.
The three women are as close as can be. But there are things Naomi has kept from her daughters. Like the arrival of Ellis, a long-lost friend from way back, now bringing the fun and spark back into her life. And she's certainly never told them that her marriage to their father wasn't quite what it seemed…
The Sunday Times bestselling author Erica James returns with this gloriously compelling tale of mothers and daughters, secrets and love.
Published by HQ Stories in Hardback on 17th March 2022 and in Paperback on 21 July 2022. View online retailer buying links.
Ask for it at your local bookshop
Hardback ISBN-10: 000841369X  ISBN-13: 978-0008413699
Paperback ISBN-10: 0008413738 ISBN-13: 9780008413736
Mothers and Daughters is also available in Audio Book
Narrated by: Juliet Stevenson
Length: 13 hours and 30 minutes
Unabridged
Listen to an extract and buy on Audible
.