It's a Small World...
There is something universally appealing about doll's houses, it really is hard to ignore the allure of them. As you start to read this, you might be inclined to dismiss the concept of a doll's house as being nothing more than a child's plaything, but trust me, it's so much more. Think Queen Mary's Doll's House which is part of the Royal Collection in Windsor and is the biggest and most famous doll's house in the world. It was built by the architect Sir Edwin Lutyens and has the addition of a garden created by the famous garden designer of the age, Gertrude Jekyll. Think also Titania's Palace which was built by James Hicks & Sons, Irish Cabinet Makers who were commissioned by Sir Nevile Wilkinson from 1907 to 1922 to make it. The magnificent 12th scale house has eighteen rooms in total, and all are exquisitely decorated. It was auctioned at Christie's in 1978 and consequently its new home became Egeskov Castle in Denmark.
Here's an example of a doll's house that was recently sold at auction for a jaw-dropping £54,000!
Well, that's the high end of the doll's house world, mine are much more modest, as you can see from my photographs. For me the attraction is all about creating a fascinating miniature world into which I can lose myself. It's the same with my writing, every day I write, I escape into the world I've created for my characters.
I had a brief fling with doll's houses many years ago but resumed my interest during the pandemic when we were in lockdown. I had bought a ye olde style house some time before with the intention of it being something my grandchildren could play with, but then I had a sudden change of heart and decided it was a 'toy' for me! I had such fun painting and wallpapering it, and then furnishing it by scouring eBay and Etsy, as well as having a go at making a needlepoint rug, which took me three months to do!
A word of warning though, this is a hobby that is highly addictive. Not satisfied with one doll's house, I then bought another and decided it would be an antique cum knick-knack shop with accommodation above decorated in a modern shabby chic style, so quite different to the ye olde house. Oh, and I bought another child-friendly doll's house with my grandchildren in mind and my granddaughter loved playing with it last Christmas.
One of the joys of this addictive hobby is being a part of the world of doll's house devotees and miniature makers on Instagram. There are some astonishingly talented makers out there and it's incredible what they create and in such fine detail. I'm in absolute awe.
If you think you might like to explore this hobby for yourself, you can find plenty of new and pre-loved 12th scale doll's houses on eBay as your starting point. I'd then recommend you subscribe to the magazine Dolls House World and explore Facebook and Instagram for inspiration.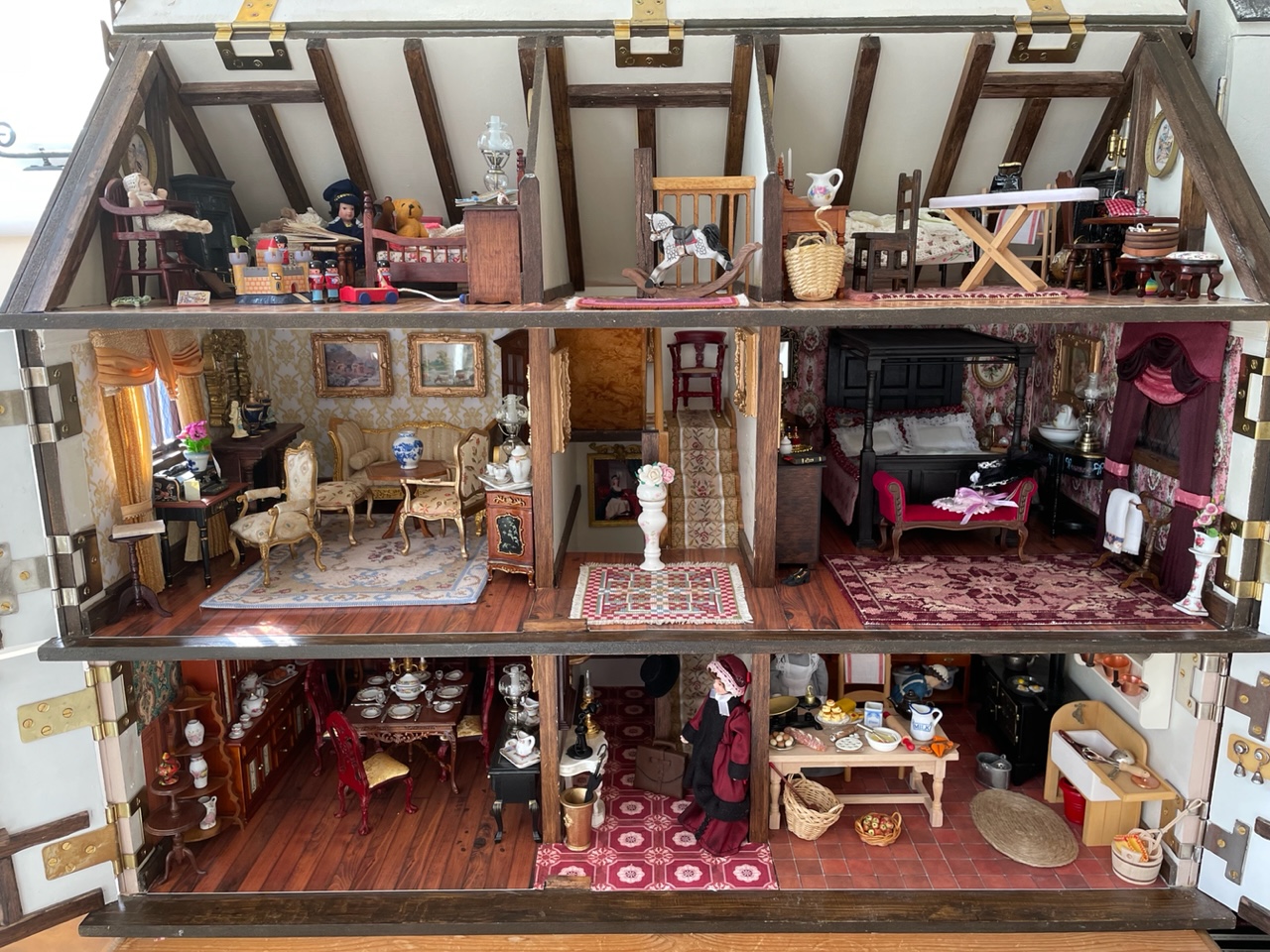 Follow Erica on Social Media