A Secret Garden Affair
Out now in Paperback, Hardback, eBook and Audio Book.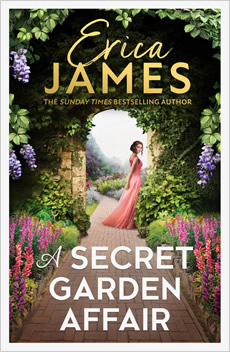 Another heartbreaking but glorious tale of secrets and love from the Sunday Times bestselling author Erica James…
July 1981. As the country prepares to celebrate Prince Charles' wedding to Lady Diana, Libby wants to be as far away from royal wedding fever as possible.
Having caught her own fiancé in bed with her best friend just weeks before they were due to marry, she's fled London for the comfort of the Suffolk countryside.
At Larkspur House, with its magical garden created by renowned garden designer and one-time socialite Elfrida Ambrose, and its comfortingly familiar kitchen presided over by Libby's great-aunt Bess, she hopes to find a way to put her life back together.
But for lifelong friends Bess and Elfrida, Libby's arrival has stirred up the ghosts of the past. And before they can help her rebuild her shattered future, they must confront their own unspoken secrets, lost loves, and tragedies…
From the Sunday Times bestselling author Erica James comes a captivating story that sweeps through sixty years of history, love, and family drama.
Published by HQ Stories in Hardback and eBook on 30th March 2023 and in Paperback on 14 September 2023. View online retailer buying links.
Ask for it at your local bookshop
Hardback ISBN-10: 0008413754 ISBN-13: 9780008413750
Paperback ISBN-10: 0008413789 ISBN-13: 9780008413781
A Secret Garden Affair is also available in Audio Book
Narrated by: Laura Aikman
Length: 13 hours and 6 minutes
Unabridged